VRWC Torch Bearers - 2000 Olympics

---
The Victorian Race Walkers Club was honoured to have a large number of current and former members selected for the honour of carrying the Olympic Torch as it wound its way towards the 2000 Olympic Games in Sydney.
First here are some photos of our members savouring a moment with the torch.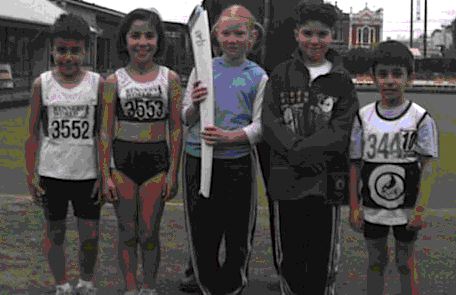 Some of the young clubmembers try the torch for size - Timucin Girgin (under 9), Eda Girgin (under 9) , Lana Bodey (under 9), Nicholas Mirachi (under 9) and Ergenekon Girgin (under 9)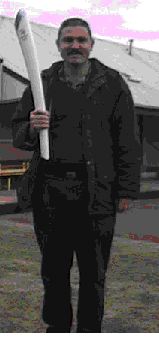 Club treasurer Michael Bodey, Australian Under 16 5 Km racewalk champion Richard Kozaris and Under 9 walker Nicholas Mirarchi.


Under 9 walker Lana Boddy, Australian Under 14 3km racewalk champion Tyne Boddy and Under 9 walker Chase Lurati.
And now here are the actual torchbearers.

| | |
| --- | --- |
| Andrew Jachno, multiple Olympian and Commonwealth Games Representative, now resident in Canberra. | Ray Smith represented Australia at the 1956 Olympics and is still involved with VRWC as our Publicity Officer and one of our resident race walking judges. Ray is also a former IAAF Judge. |
| Bob Gardiner represented Australia at the 1964, 1968 and 1972 Olympics and at the 1970 Commonwealth Games. He is still involved as a Vice President of VRWC. | Erin Adamcewicz is the current Australian Under 18 8 KM walk champion. She is currently a member of VRWC. |
| Duane Cousins has been selected to compete in the 50 Km event at the 2000 Olympics. He also competed in the 50 km at the 1996 Olympic Games and at the 1998 Commonwealth Games. He is a current VRWC member. | Peter Buller is a former member of the club. |
| Simon Baker is also a multiple Olympic and Commonwealth Games. His credentials include winning the 1989 World 50 Km championships and is Australia's only World Champion in the sport of Race Walking. He is also a Commonwealth Games Gold medallist and is still active in the sport as a competitor, coach and member of various committees at State and National level. He is a current member of VRWC. | . |
| Willi Sawall is a multiple Olympic and Commonwealth Games competitor and had a wonderful career which included various Commonwealth Records. His performances included a best of 3:46 for 50 km. | George Knott represented Australia in the 1948 Olympic Games and, at 89 years of age, was still active as an official in Melbourne when this photo was taken. He died in March 2001. We remember him as a life member of VRWC, a great walker and a lifelong supporter of racewalking in Australia. |